Shows
Cause And Effect
Various | 1:00 - 3:00p.m. Saturdays
What is dark matter? How do we treat ear worms? Do we have free will? Have I heard this beat before?

Every week Cause and Effect summons your inner music nerd to identify the influences of your favorite musical groups, explore their work and peers, and play new artists following in their footsteps. A variety of WRIR DJs scour the Internet for interviews and articles, at times receives direct input from artists and labels, and rely on input from fans to develop a music show destined to be added to your weekly calendar. See a sample show below:

White stripes =
Influences: Dylan, Leadbelly, Sonics, Flat Duo Jets, Screaming Lord Sutch, Led Zeppelin, Son House

Side projects / band family tree : The Upholsterers, The Raconteurs, Dead Weather, Loretta Lynn

Peers: Greenhornes, Black Keys, The Von Bondies, The Vines

Tune in every Saturday afternoon from 1-3p.m. for Cause and Effect!
Greetings,
Today's episode of Cause & Effect will be covering the midwestern 90s group Cap'n Jazz. This group has been considered by many to be the Emo Velvet Underground and the formation of this group would later spawn the likes of The Promise Ring, Joan of Arc, Owen, American Football, Make Believe and just about every band that has a Kinsella spin on it. Join me, Shannon Cleary of The Commonwealth of Notions, as I attempt to cover everything about this group over the course of two hours.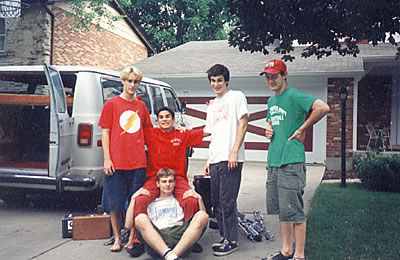 Click "read more" for the playlist!
As Always, Thanks for Tuning In and Supporting All Things Local!