Shows
Songs From The Big Hair
Various | Saturday 3 - 5pm
If you're like a lot of us here at WRIR, you have a soft spot for at least some of the music from the 1980s. Whether it's new wave, punk rock, neopsychedelia, metal, funk, or good ole college radio rock, you'll likely hear it on this show. Hosted by a rotating cast of WRIR DJs, each episode has a slightly different flavor. And that keeps it interesting! DJ hosts include Sean Kennedy, Gene (The British Breakfast), DJ Graybeard (The Other Black Music, The Motherland Influence), Dirty Dacoit Dan (Salad Days), Rev. Noah, Fontaine (What The Fontaine?!), Enzo (Breakfast Blend), Stewart Allen, Allan Coberly (The New Breakfast Snob), Albert Green (Chapter & Verse), and others.

Check Twitter for updates on this week's host:
http://twitter.com/WRIR80sShow
Recent Blog Entries
tommy from dog germs here brining you some awesome industrial, goth, and whatever else that's cool from the '80s on today's edition of songs from the big hair!

it's still weird djing when the sun is shining...guess i'll never get used to this!
know who these guys in the picture are? answer: skinny puppy circa 1984/85!
click "read more" to see the playlist!
unfortunately there will not be a podcast for this show as we had equipment failure here in the studio...but thank you for listening and enjoy the rest of your weekend!
Pat Benatar. DJ Ginger hosting.
Kenny & Jay down from D.C. to bring you their version of the 80s.
It's record store day, I'm hosting Songs From The Big Hair
AND
It's 4/20?
DUUUUUUUUDE!
click "READ MORE" then pass it around, bra
Okay I'm gonna tell ya right up front, I'll be playing some 70s songs today, but they'll all have that punky sound, I promise. Plus of course lotsa 80s punk, and a few other things. Last week I got to see (and briefly hang out with) Sylvain Sylvain of the New York Dolls and Glen Matlock of The Sex Pistols. I wanted to post Syl's autographed setlist or Dolls LP, but the scanner up here isn't working (wah, wah). How about a photo of him from the internet instead? Oh yeah, tune in 3-5pmEDT today to hear all the music!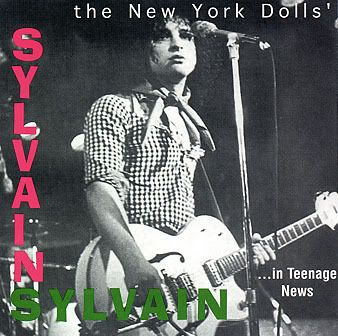 Twitter: http://twitter.com/WhatTheFontaine
Facebook: http://www.facebook.com/pages/Richmond-VA/What-the-Fontaine-on-WRIR-973-FM/273679064155
AIM: WhatTheFontaine Phone: 804.649.9737
Check here later for tonight's podcast.
All podcasts: http://www.radio4all.net/index.php/contributor/3857

Click "Read More" for song list.

Thanks for listening!!!